You may have heard someone say their car had swollen lug nuts. You may be thinking to yourself can lug nuts really "swell," and if so, how do I keep my lug nuts from becoming swollen? Well, I, like you, also had this question and was shocked when I learned swollen lug nuts are definitely a real and potentially huge headache if they happen on your car.
This article is a guide to how lug nuts swell, what cars are prone to swollen lug nuts, and how you can fix the problem before or after it happens. I did tons of research and compiled it for you.
What exactly happens when a lug nut swells?
Lug nuts that swell are what are commonly referred to as "two-piece" or "chrome-plated" lug nuts (the shiny looking lug nuts,) when corrosion causes the lug nuts to swell between the two layers of dissimilar metals.
This can cause the correct socket for your lug nuts to no longer fit, making changing a spare tire on the side of the road a potentially catastrophic or expensive repair. Swollen lug nuts can be found on many late model Fords, Dodges, Chryslers, and Toyotas (as well as many other brands and makes).
If you're having trouble fitting a socket onto your lug nuts, or the stock tire iron won't slip on the lug nuts, then you may be experiencing swollen lug nuts. To remove find the best fitting larger socket (swollen lug nut sockets are now a thing) and remove and replace them with higher quality lug nuts.
A 19mm lug nut may need to be removed carefully with a 19.5mm socket or a 20mm depending on how swollen it is.
For the unsuspecting person trying to change their tire on the side of the road, if your tire lug nut wrench in the trunk isn't fitting your lug nuts you may be dealing with swollen lug nuts.
All jokes aside, it can be a serious problem and is best prevented if you have these shiny "pretty" lug nuts on your car or truck. Remove them ASAP and replace the shiny lug nuts with a higher-quality lug nut that won't swell. You should always call your dealership first and ask if your car can be covered under warranty or recall. 
From a law firm that deals specifically with GM swollen lug nuts here are how they explain swollen lug nuts: "The basis of this defect is the materials, GM chose to use in making its lug nuts on Chevy cars and trucks. GM's lug nuts are comprised of a steel core with an aluminum skin. Due to the fact that these metals heat and cool at two distinctly different temperatures, changes in the temperature of the lug nut cause delamination and warping of the aluminum skin. Over even short periods of ownership, Chevy owners have reported the lug nuts on their vehicles have warped, expanded and have become too swollen to fit in a lug nut wrench." Source.
Does Your Car Have Swollen Lug Nuts:
The easiest way is to call your dealership and give them your VIN number. Ask if your car has the chrome plated lug nuts and if there have been any problems with lug nuts swelling. Ask if they will address the problem for you, or if it can be covered by warranty. If you press them, you may be able to get them to replace all the lug nuts for free (this can cost upwards of a couple $100 dollars at a shop).
So, what cars and brands most often have these swollen lug nuts?
Ford's are notoriously bad from 2010-2015+ or so including the model's Fusion, Escape, Flex, Focus, F-150, Mustangs, and F-350 trucks. Dodge's have a lot of swollen lug nuts Magnums, Rams, Darts, Chargers etc. Jeep, Chrysler, Toyotas, Chevy's even maybe some Honda's have had this problem. Any car that is using these two-piece lug nuts with dissimilar metals experience problems with swelling. Any car with chrome plated lug nuts which were introduced most commonly after 2010+ can experience swollen lug nuts. 
There was even a class action lawsuit against Ford for not warrantying cars that had swollen lug nuts. Here is another lawsuit against Chevy for the same thing. 
Lug Nut Swelling Explained: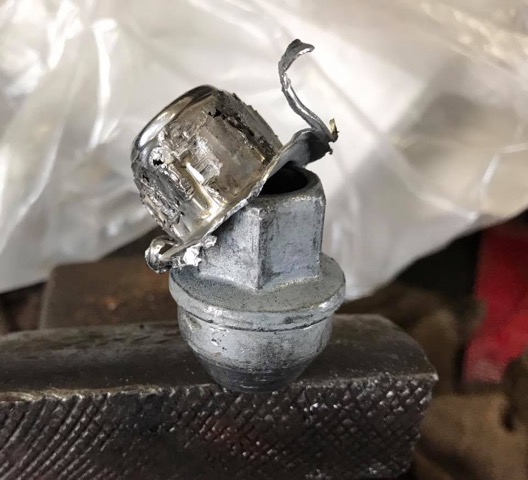 I don't understand the exact science behind why this happens, but many companies started using "two-piece lug nuts" in modern cars to make them more stylish. The idea was that these lug nuts would have a nice shiny outside layer. They would look cleaner, prettier, and hopefully attract more people to buy their cars. Some designer probably wanted shiny lug nuts to make the car look cleaner, and a lot of car makers started using them.
However, it soon became clear that there was a huge problem. These lug nuts, especially when taken on and off with impact guns, started swelling. In fact, they didn't even really need to be abused in any way, they will start to swell in any of the rust belt states with no abuse at all.
Why do the lug nuts swell? Quite simply, corrosion starts between the two layers and they start to expand out away from each other.  The lug nuts can literally be thought of as being almost "two-pieces." Also, they're two different types of metals put on top of each other and told to get along. As we know about metals, metals don't particularly like other dissimilar metals near them. Add to the mix people using standard sockets on metric lug nuts, or cheap impact sockets and slightly rounding or scuffing the edges of the lug nut, and you have a place for water, salt, and corrosion to begin.
How bad can it be? Well, I hope you are not on the side of the road right now researching why you can't put your spare tire on because your tire iron won't fir the lug nuts. But yes it can cause the correct socket for your lug nuts to no longer fit. That means the tools your car came with to change your spare tire– won't work! Or worse, can leave you stripping the lug nuts and requiring a lengthy removal by a professional mechanic (add a tow and hours of labor).
And who ends up footing the bill? Oftentimes you are. In certain conditions on some cars, lug nuts can start to swell at 30,000 miles and only a year or two old.
How to Remove Swollen Lug Nuts:
Look, this really depends on how bad your lug nuts are swollen.
The best case scenario is that you can either hammer on the correct socket size for your lug nuts (it may be a little too tight to just slip on), and remove them with an impact wrench or breaker bar. This will damage both the lug nut and potentially the socket you are using. Be sure to replace the lug nuts immediately after removing them this way, and only use a socket you are okay with potentially damaging.
If your lug nuts are very swollen:
If you cannot remove and replace them with the correct socket for your lug nut size, then you will need to go up in size to the next biggest socket and try the fitment. 
The best tools to own to remove them are an impact wrench (either air or cordless) and a set of impact sockets. The best impact sockets to own if you know your lug nuts are swollen are a set of metric lug nut sockets that go up by .5mm instead of 1mm. These were designed specifically for the purpose of removing swollen lug nuts (since oftentimes the best fitting socket is between two sizes).
For Ford, 19mm damaged lug nuts grab this flip socket that has 18.5 and 19.5mm sizes. It works great for Ford swollen lug nuts.
For Dodge/GM/, 22mm chrome-capped lug nuts & Dodge 16″ – 17″ aluminum wheels grab this 22mm/22.5mm flip socket.
To grab all three of the most commonly needed .5mm sockets here is all three put together in a set. Another benefit of using this .5mm sockets is they fit the lug nuts right and will remove them (even if they're swollen). Instead of having to hammer on a smaller socket, then hammer out the lug nut through the socket (therefore saving you tons of time). 
Rounded Off Swollen Lug Nuts?
If the lug nuts are super rounded off already (you tried to remove them and failed) you will need a set of these damaged lug nut removers. They are cheap and actually work great. You just hammer them onto the rounded off lug nut and then remove them with an impact wrench or breaker bar.
They will damage the lug nut (which should already be damaged if you're using them to remove it). However, they should make getting the lug nut off easy and hassle-free.
The best set on Amazon is here, and it is a great price!
Related Questions:
What are the best replacement lug nuts to fix swollen lug nuts? 
A lot of people swear by the brand Gorilla, which offers lug nuts that are guaranteed not to swell. Here is a quick search for Gorilla lug nuts on Amazon
, just be sure to get the correct size that fits your car or truck. I highly recommend first contacting your dealership and ask whether your vehicle has the lug nuts that are known to swell and if they will replace them under warranty.
How much will a shop charge change out your lug nuts? 
With all parts and labor, it can be anywhere from $50-300. If you catch the lug nut problem early before they begin to swell it can save you money and time. Just replace them with the highest quality lug nuts that won't swell before they become a problem.
My lug nut wrench won't fit my lug nuts, I am pretty sure it came with the car, what gives? 
More than likely your lug nut have swollen due to rust and corrosion, and poor engineering, and you need to get a socket set to fit on the swollen lug nuts. Do not try to remove them if the tire wrench in the trunk does not fit. You may round off the lug nuts and cause more damage/expensive repair if needed. If your tire iron or lug nut wrench does not fit the lug nut square and straight, wait for a tow truck driver or mechanic to help you. Once you strip or round off the lug nuts you can expect the repair to cost 2-3x what it would if someone did it correctly the first time.
5 Pro Tips for Swollen Lug Nuts:
Remove them before they become a problem. 
Contact your dealership and ask about warranty coverage. 
Use a socket set with .5mm increments made for swollen lug nuts to make it way easier and faster to remove them. 
If you are on the side of the road, use a socket and a hammer to remove swollen lug nuts and make sure to replace them immediately. 
Always get professional help if you think your lug nuts are swollen and you do not feel confident removing them. It will save you more money than after you round them off and it costs way more to remove them! 
| | |
| --- | --- |
| DO YOU LIKE THIS ARTICLE: | |